With naturally derived CharcoCaps, you can now eat, drink and be merry with friends and family without worrying about the discomfort and embarrassment from gas.
CharcoCaps Activated Charcoal Detoxifying Gas Relief 100 Count Capsules
Regular price
Sale price
$19.95 USD
Unit price
per
Sale
Sold Out
Available On Amazon
CharcoCaps delivers fast-acting, naturally derived anti-gas relief. It is a unique, activated charcoal digestion aid that's been clinically shown to reduce overall physical discomfort associated with gas producing foods.
Fast-Acting: CharcoCaps works to relieve the 3 major issues of digestive stress - excess gas, bloating, and flatulence. Our activated charcoal's highly absorptive formula works to relieve intestinal gas and bloating FAST.
Gentle On The stomach: CharcoCaps is naturally derived and was developed to maintain healthy digestive function. Its premium quality activated charcoal is made from high-fired coconut shells and is gentle on the stomach and safe with no known side effects.
Drug-Free: CharcoCaps contains no drugs, aluminum, gluten, or any preservatives.
Detoxifying Formula: CharcoCaps activated charcoal traps unwanted toxins and chemicals in the gut, binding and carrying them safely out of the digestive system.
Easy: Capsules are easy to swallow and can be taken in advance of meals.
Ingredient Information

Serving Size: 2 Capsules
Servings Per Container: 50

Amount Per Serving:
Activated Charcoal 520mg (Daily Value (DV) not established.)

Activated charcoal is safe with no side effects when used according to label instructions (some users may experience darkening of the stool). It conforms to strict government standards for purity and continues to be widely used, for example, within the medical community as an emergency antidote for certain kinds of poisoning (such as overdoses). This is because activated charcoal's unique properties can help prevent absorption of poisons by the stomach and small intestine. Note: CharcoCaps is not a treatment for accidental poisoning.

Do not take CharcoCaps Anti-Gas Formula with any other medicines, supplements or vitamins as it will reduce their effectiveness. It is important to wait at least 2 hours before or 2 hours after a dose of any other medicine including birth control pills.
View full details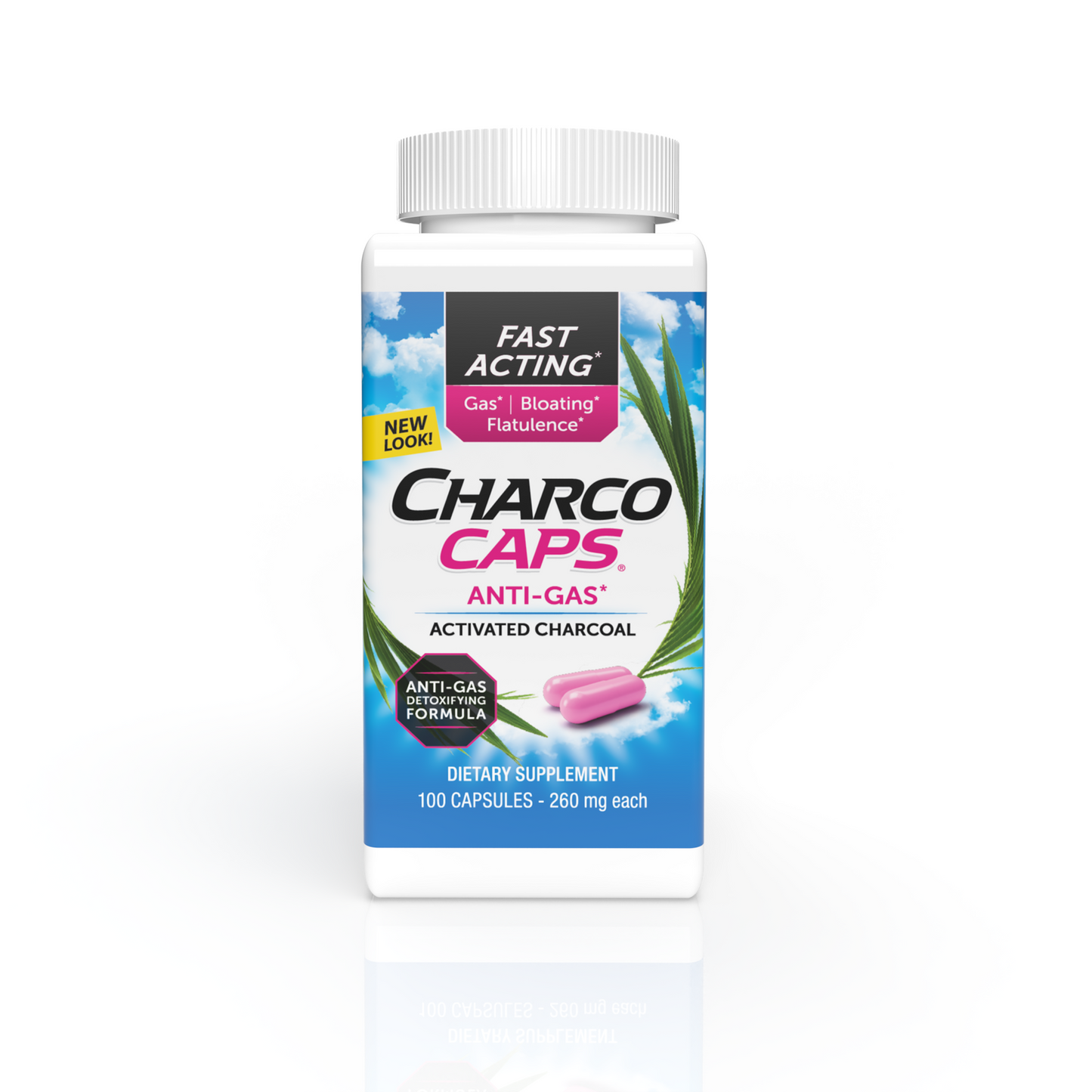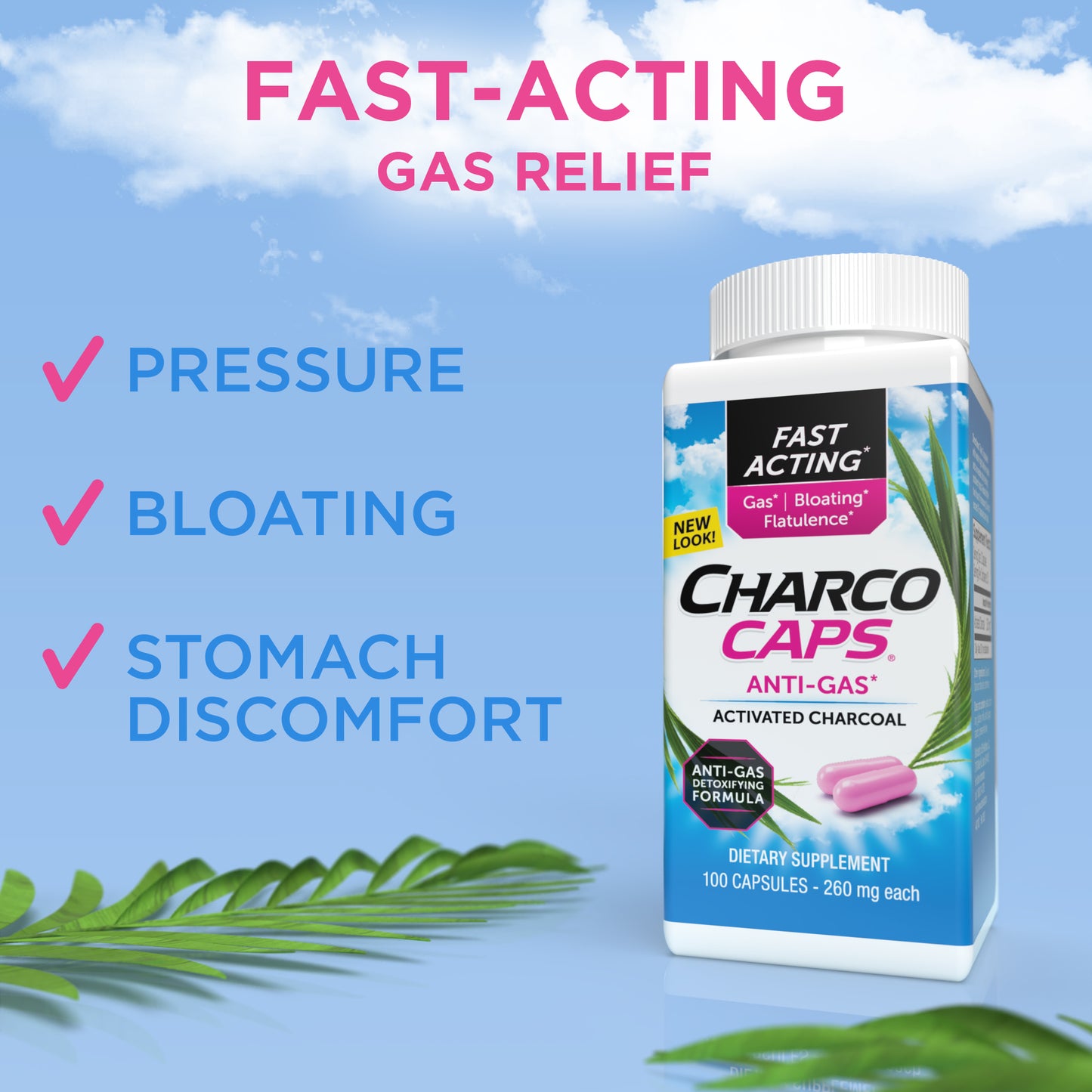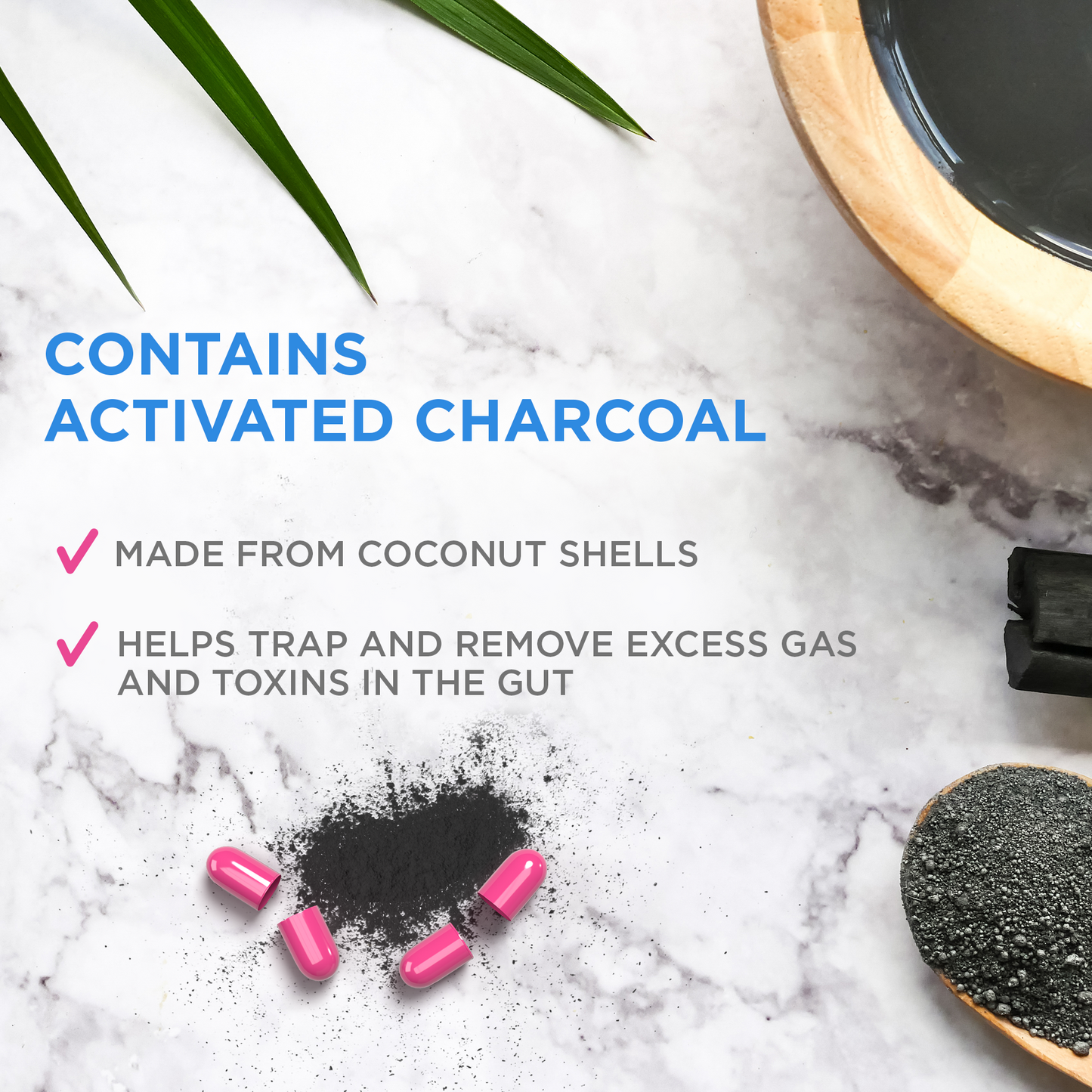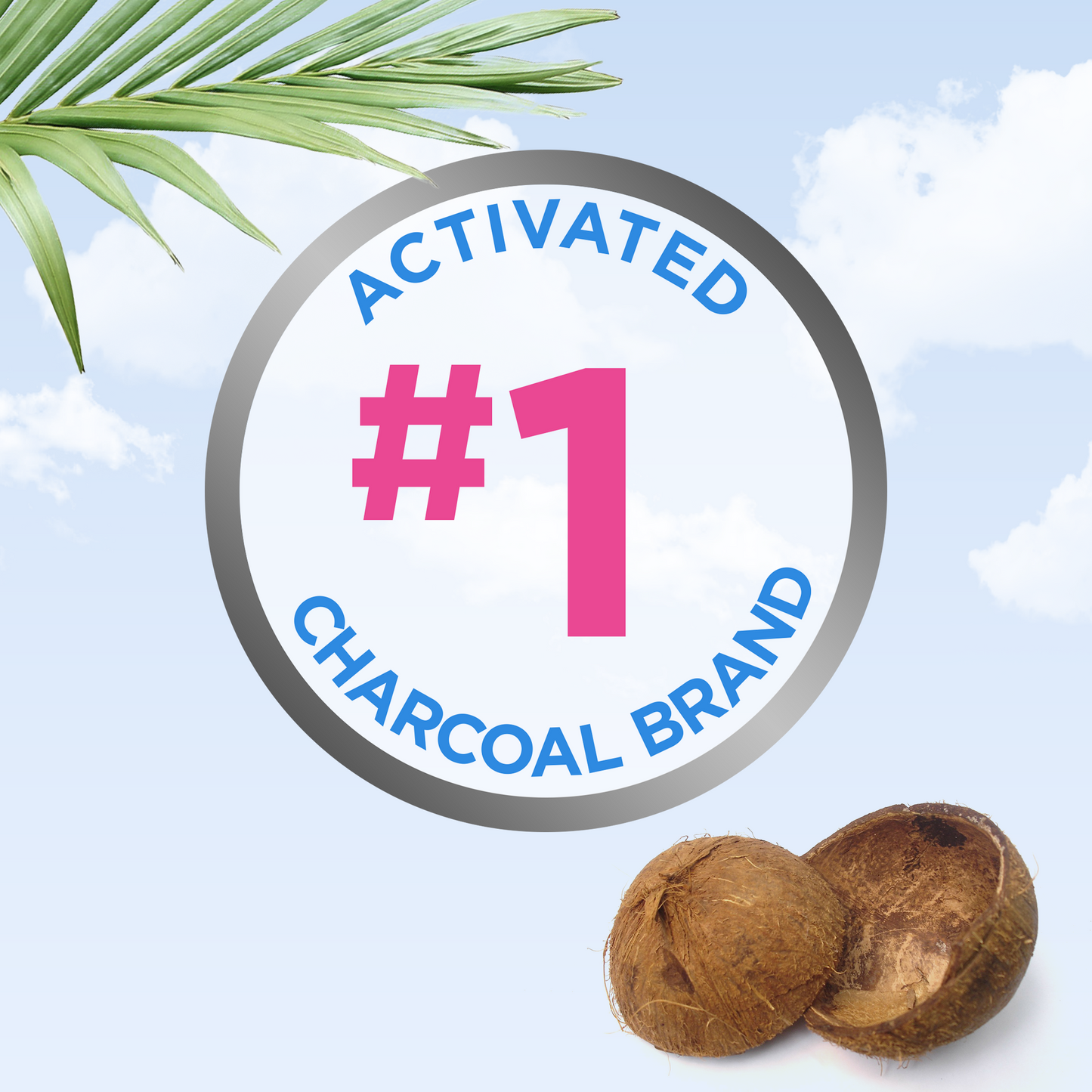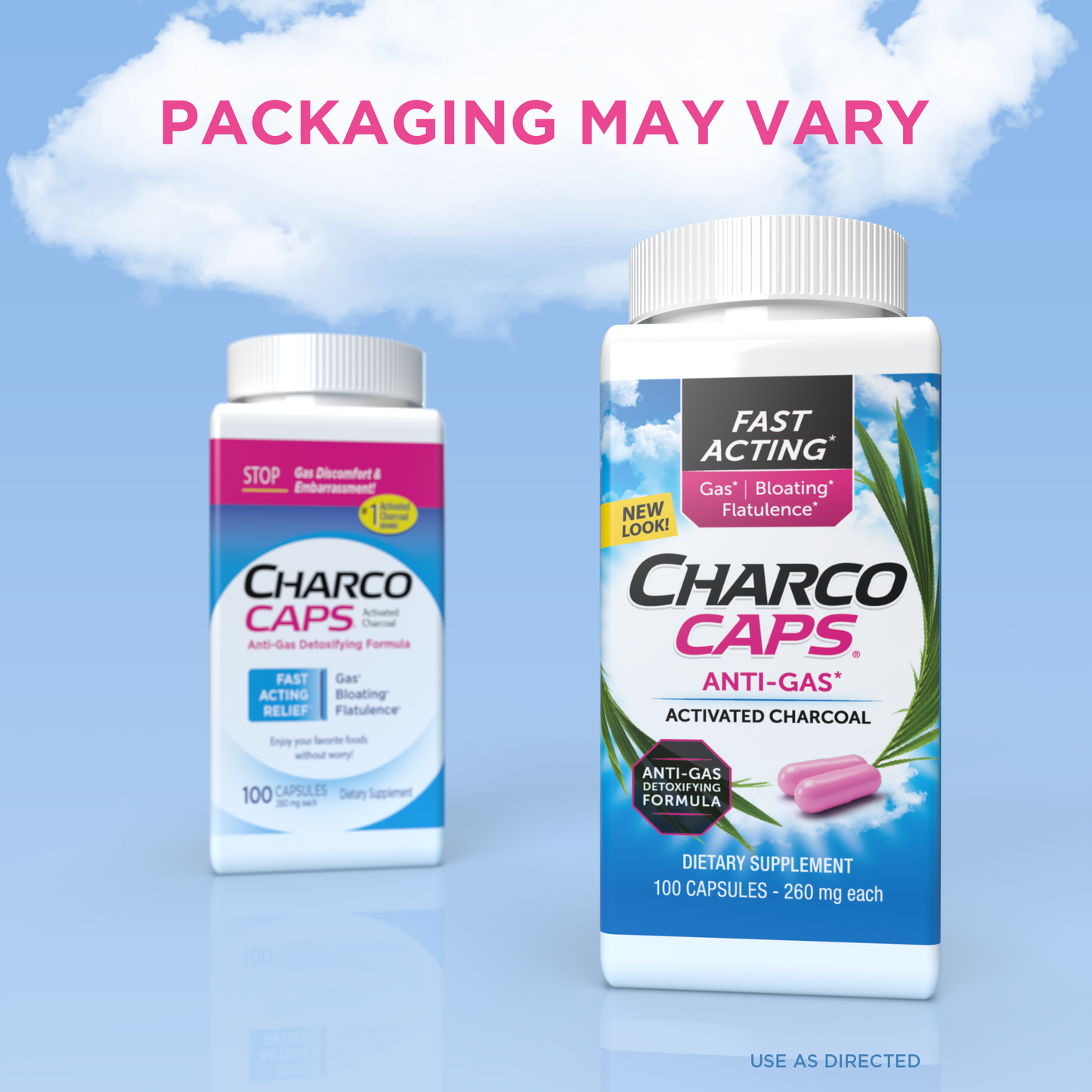 Enjoy Foods That Can Cause Gas
How it Works
Unlike other anti-gas products that use simethicone (sim-eth-i-cone), an OTC drug ingredient, or enzymes, CharcoCaps® Anti-Gas Formula uses naturally derived activated charcoal to bind to gas and toxins, carrying them safely out of the digestive system.
So, What's the Deal with Activated Charcoal?
Activated Charcoal
Activated Charcoal is a black, odorless, flavorless powder that has been used since the ancient times to treat various ailments. Made from 100% natural coconut shells, our activated charcoal is charcoal that has been subjected to very high temperatures to make it more porous. This treatment changes its internal structure, reducing the size of its pores and increasing its surface area.
Activated charcoal doesn't get absorbed by your gut, so when gas and toxins pass through the activated charcoal, they bind to it through a process known as adsorption.
In CharcoCaps, we use a high purity, medical grade activated charcoal that works with the body naturally to remove gas and toxins from the digestive system. Activated charcoal is naturally gentle on the stomach, and safe with no known side effects when used as directed.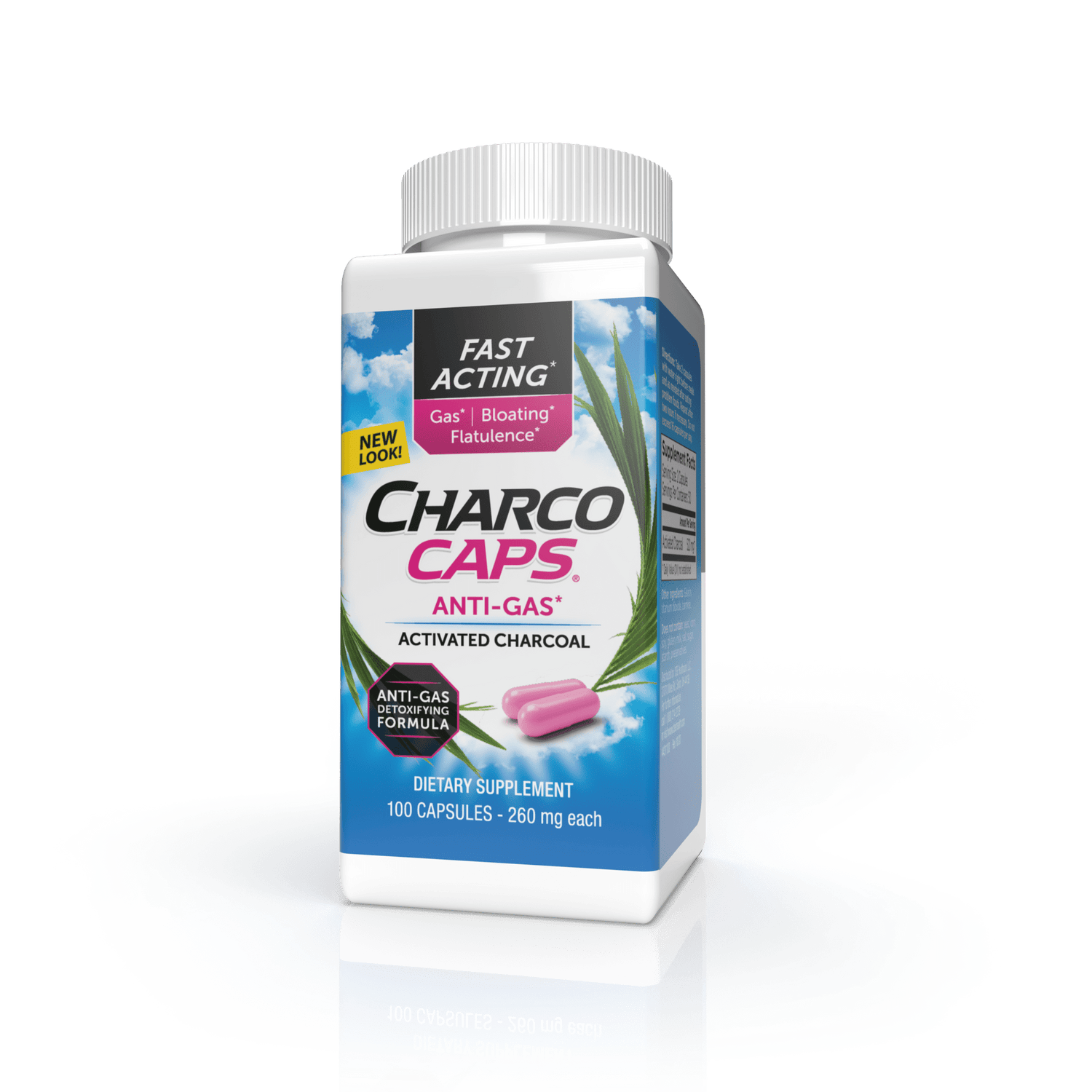 30-Day Money-Back Guarantee
Your satisfaction is important to us. If you are not fully satisfied in 30 days of use, we'll give you your money back. No questions asked.

Have Questions, Send Us A Message
Choosing a selection results in a full page refresh.